LAUZIERE 214 / STUDIO CABIN - 5 PERSONS - ADA
Self-catered apartment | Nice and well place in Val Thorens
In Val Thorens, we rent a nice apartment of 31 m2 renovated for 5 persons with a southern exposure, view of the snowy mountains!

It consists of a kitchenette living room, a bedroom area, a cabin room.
Bathroom and separate toilet.

The comfort of this apartment will allow you to spend pleasant moments with family or friends.

The ski slopes are near the residence or down the street or through the back by taking the snowy path.
Local shops like a supermarket or ski or snowboard rental are just 5 minutes from the apartment.

If you come to Val Thorens by train and bus, you come close to the residence Lauzières. If you take your vehicle, be sure to reserve the parking P1 through us.
Compare "LAUZIERE 214 / STUDIO CABIN - 5 PERSONS - ADA" with similar alternatives
Nice self catering apartment in Les Lauzières Val Thorens, for 4 persons. Good location.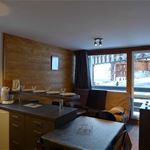 Nice and fully equiped self catering apartment.
Les Lauzières Val Thorens is a rental apartment of 28m2 with 1 bedroom and 1 cabin for 4 people on the 7th floor with elevator, beautiful view on the main pists of the highest ski resort in Europe. South facing with balcony for non-skiers. Ski slopes access is behing the residence and depending on the snow conditions. Main shops are not so far too like sport center.