LES HAUTS DE LA VANOISE 117 / 2 PEOPLE - 1 SNOW FLAKE BRONZE - CI
The residence LES HAUTS DE LA VANOISE is in the center of the resort, close to the church and the commercial center of Péclet.
The ski slopes are at 50 meters.
This north facing studio of around 18 m2 is at the 2nd floor.
It provides a pullout bed in the dining room.
The kitchen is fully equipped with fridge, oven, dishwasher and electric plates.
The toilets are in the bathroom.
Compare "LES HAUTS DE LA VANOISE 117 / 2 PEOPLE - 1 SNOW FLAKE BRONZE - CI" with similar alternatives
The residence LES HAUTS DE LA VANOISE is in the center of the resort, close to the church and the commercial center of Péclet. The ski slopes are at 50 meters. This nice studio of around 20m2, 3rd floor, gets a wonderful view on the slopes from his balcony facing the south. It provides a double bed in the dining room and a single bed in the entrance. The kitchen is fully equipped with fridge, oven, dishwasher and electric plates. The toilets are in the bathroom. Complementary services upon reservation, subject to availability: Wifi box 39€ per week with 3 GO per day / end cleaning: from 50€ to 100€ according apartment size / bed linen: 13€ per person and towel: 12€ per person / pets allowed for free / car park: 80€ per week / baby cot: 20€ per week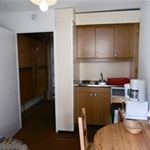 The residence LES HAUTS DE LA VANOISE is in the center of the resort, close to the church and the commercial center of Péclet. The ski slopes are at 50 meters. This nice studio of around 15 m2 ,4th floor, gets a north balcony. It provides a sofa bed in the dining room. The kitchen is fully equiped with fridge, oven and electric plates. The toilets are in the bathroom
The residence LES HAUTS DE LA VANOISE is in the center of the resort, close to the church and the commercial center of Péclet. The ski slopes are at 50 meters. This nice studio of around 20m2, 3rd floor, gets a north balcony. It provides a pullout bed in the dining room. The kitchen is fully equipped with fridge, oven, dishwasher and electric plates. The toilets are in the bathroom. Complementary services upon reservation, subject to availability: Wifi box 39€ per week with 3 GO per day / end cleaning: from 50€ to 100€ according apartment size / bed linen: 13€ per person and towel: 12€ per person / pets allowed for free / car park: 80€ per week / baby cot: 20€ per week