Roche Blanche 86 - Studio - 4 persons - 1 silver snowflake
Местоположение: Val Thorens
Residence "La Roche Blanche". In a central position, directly by the skiing area, south facing position. In the complex: lift. Shopping centre 100 m, restaurant, bar 50 m. Sports centre 100 m. Please note: There are more similar properties for rent in this same residence.

1-room apartment 25 m2 on 1st floor. Renovated in 2013, beautiful furnishings: living/dining room with 1 double sofabed and TV (flat screen). Entrance hall with 1 x 2 bunk beds. Kitchenette (oven, dishwasher, 2 induction hot plates, microwave, electric coffee machine). Bath/WC. Balcony, south facing position. Facilities: hair dryer. Internet (WiFi, extra).
Оборудование и услуги
Общие удобства

1 номера(-ов)

Wireless access

Оборудование номера

Посудомоечная машина

Балкон-терраса

Телевизор
Сравнить «Roche Blanche 86 - Studio - 4 persons - 1 silver snowflake» с похожими альтернативами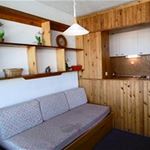 The residence LES NEVES is located on the top of the resort, in a lively area, near bars and nightclubs, in front of the shopping mall of Péclet (supermarket, restaurants, shops), 50 meters from the ski slopes. This studio of 28 m2 is situated on the 2nd floor with a south balcony. Toilets are separated from the bathroom, the kitchen is fitted out with oven but without dishwasher. You will find 2 bunk beds in the entrance and a pullout bed in the living room.
The residence LES NEVES is located on the top of the resort, in a lively area, near bars and nightclubs, in front of the shopping mall of Péclet (supermarket, restaurants, shops), 50 meters from the ski slopes. This renewed studio of 25 m2 is situated on the 4th floor with a south balcony. Toilets are in the bathroom, the kitchen is fitted out with oven and dishwasher. You will find 2 bunk beds in the entrance and a pullout bed in the living room. Complementary services upon reservation, subject to availability: Wifi box 39€ per week with 3 GO per day / end cleaning: from 50€ to 100€ according apartment size / bed linen: 13€ per person and towel: 12€ per person / pets allowed for free / car park: 80€ per week / baby cot: 20€ per week
The residence LES NEVES is located on the top of the resort, in a lively area, near bars and nightclubs, in front of the shopping mall of Péclet (supermarket, restaurants, shops), 50 meters from the ski slopes. This studio of 25 m2 is situated on the 2nd floor with a north/east balcony. Toilets are in the bathroom, the kitchen is fitted out with oven but without dishwasher. You will find 2 bunk beds in the entrance and a double bed in mezzanine in the living room. Complementary services upon reservation, subject to availability: Wifi box 39€ per week with 3 GO per day / end cleaning: from 50€ to 100€ according apartment size / bed linen: 13€ per person and towel: 12€ per person / pets allowed for free / car park: 80€ per week / baby cot: 20€ per week