SILVERALP 218 / APARTMENT 4 ROOMS 6 PERSONS - 4 GOLD SNWOFLAKES - ADA
Местоположение: Val Thorens
Duplex 44m2, 3 separate bedrooms, 6-7 people. Completely renovated, luxurious, premium quality.

Personalized key delivery directly inside the apartment from 2 pm,except for short trip, beds ready-to-sleep, towels provided, final cleaning included.

The apartment was decorated with taste and equipped with ingenuity by its owners. Combining contemporary spirit to the Savoyard tradition.
The chalet apartment life in some ways.
Located in the heart of the village in one of the quietest streets of Val Thorens, the street of the Sun, far from the noisy bars of Val Thorens.
Slopes 40 meters right in front of the residence. Ski Schools, shops, bakery, nursery, sale of packages in the immediate vicinity of the residence.
South facing terrace.
Exceptionally clear view of the snowy mountains. Very bright. 2nd floor.
Living space on the ground floor. Bedrooms upstairs.
One room houses the staircase serves the two other bedrooms.
High ceilings in the rooms between 1,79m and 1,85m to lowest.
The room with bunk beds is blind, windowless but very pleasant despite this minor element.
Quality new bedding. Duvets. Many storage.
2 bedrooms with double beds of 140cm and 1 bedroom with 2 bunk beds 90cm.
Possibility of adding an extra bed for a 7th person or a baby cot in the room with bunk beds.
New kitchen appliances. Ceramic hob, multifunction oven, raclette, Siemens Dishwasher, Refrigerator Liebehr.
Bathroom new contemporary bathroom.
3 LCD TV and DVD players.
DVDs in English and French for the family room, dining table for 6-8 persons with extensions.
In summary, this apartment is ideally in Val Thorens.
Сравнить «SILVERALP 218 / APARTMENT 4 ROOMS 6 PERSONS - 4 GOLD SNWOFLAKES - ADA» с похожими альтернативами
Beautiful duplex apartment, 4th floor, renovated this year, for 6 people, with south-west facing balcony with mountain views. Prime location. Personalized key delivery directly inside the apartment from 2 pm,except for short trip, beds ready-to-sleep, towels provided, final cleaning included. This apartment will seduce you with its charm and contemporary decoration. The owners have been keen to make this place beautiful, friendly and convenient to both. Wood and natural stone throughout, custom fixtures created, upscale appliances, signature bedding, everything was done to make your stay at the lovely mountain. This duplex has on the floor 3 comfortable bedrooms while the living space is below. 2 double bedrooms with 140cm beds, and 1 bedroom with bunk beds. Duvets everywhere. Plenty of storage space and flat screen tv in every room. No sleeping in the lounge. Bathroom with bath / shower and separate toilet. American kitchen with all the modern equipment required for this type of services: ceramic hob, extractor, dishwasher, Nespresso coffee machine, microwave, oven, etc. Living room with flat screen TV and DVD player. The owners provide you with many DVD. The lounge enjoys immense clarity thanks to its picture window giving access to the balcony, facing south, where the view of the mountains and trails, is lovely. A ski locker is located at the ground floor of the building. This apartment is ideally located in the street of the Sun, to the slopes, but the gap noise. Skiers n that will cross the street to rush s. Essential shops are within 50m. ESF ski schools and SKI COOL are less than 10m. Day care for children in front of the building. Several equipment rental companies in the immediate vicinity. Very nice product. A safe choice.
Ideal for a family of 6 persons or with friends in Silveralp 43 m2 Ski in - Ski out.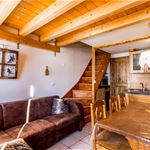 Comfortable self catering apartment for 6 persons ski in ski out