REINE BLANCHE 118 / 3 ROOMS 6 PERSONS - 3 SILVER SNOWFLAKES - VTI
Местоположение: Quarter Arolles
résidence:
The Reine Blanche residence is situated in the quiet Arolles area near the entrance of resort with the Caron shopping and sport centre at just 200 meters (shops, restaurants). The building is located at the foot of the pistes with ski in ski out access. Resort map n° 72/C3..
appartement:
Fully renovated apartment. Strictly no smoking.
South facing 3 roomed duplex of 60m² with balcony. 7th floor slope side (4th floor from building entrance).
Kitchenette with microwave/ grill multifunction oven, dishwasher, electric hobs, extractor fan and refrigerator. Dining area.
Living room area with television and DVD player.
Bathroom with bath. Second bathroom with shower and toilet.
SLEEPING ARRANGEMENTS
Bedroom with double bed and a pullout sofa bed (2 x 1 person) in alcove.
Bedroom with double bed.
Resort WIFI network payable on condition that apartment has sufficient coverage.
Сравнить «REINE BLANCHE 118 / 3 ROOMS 6 PERSONS - 3 SILVER SNOWFLAKES - VTI» с похожими альтернативами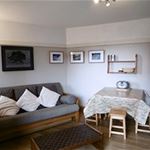 The Residence called La Reine Blanche, very good standing, is located at the entrance of the resort, in a quiet place. There is a direct access on the slopes. This lovely apartment, very large for two persons, is around 30m², on the 2nd floor and has a south west facing balcony. It provides a separated bedroom with a double bed. The Kitchen is equipped with dishwasher, oven, electric hobs and fridge. It has a large bathroom with bath. Toilets are separated. Complementary services upon reservation, subject to availability: Wifi box 39€ per week with 3 GO per day / end cleaning: from 50€ to 100€ according apartment size / bed linen: 13€ per person and towel: 12€ per person / pets allowed for free / car park: 80€ per week / baby cot: 20€ per week
The Residence called La Reine Blanche,very good standing, is located at the entrance of the resort, in a quiet place. There is a direct access on the slopes. This lovely appartment is around 30m²,on level -3 (ground floor) and has a south facing balcony. It provides a separated bedroom with a double bed and bunk beds in the entrance. The Kitchen is equipped with dishwasher, oven, microwave, electric hobs and fridge. Toilets are separated from the bathroom. Complementary services upon reservation, subject to availability: Wifi box 39€ per week with 3 GO per day / end cleaning: from 50€ to 100€ according apartment size / bed linen: 13€ per person and towel: 12€ per person / pets allowed for free / car park: 80€ per week / baby cot: 20€ per week
The Residence called La Reine Blanche,very good standing, is located at the entrance of the resort, in a quiet place. There is a direct access on the slopes. This lovely appartment is around 25m²,on the 3rd floor and has a west facing balcony. It provides a cabin with bunk beds and a sofa bed in the living room. The Kitchen is equipped with dishwasher, oven, electric hobs and fridge. Toilets are separated. Complementary services upon reservation, subject to availability: Wifi box 39€ per week with 3 GO per day / end cleaning: from 50€ to 100€ according apartment size / bed linen: 13€ per person and towel: 12€ per person / pets allowed for free / car park: 80€ per week / baby cot: 20€ per week